We've got a new Gay Traditions article up at No Depression!

Check it our HERE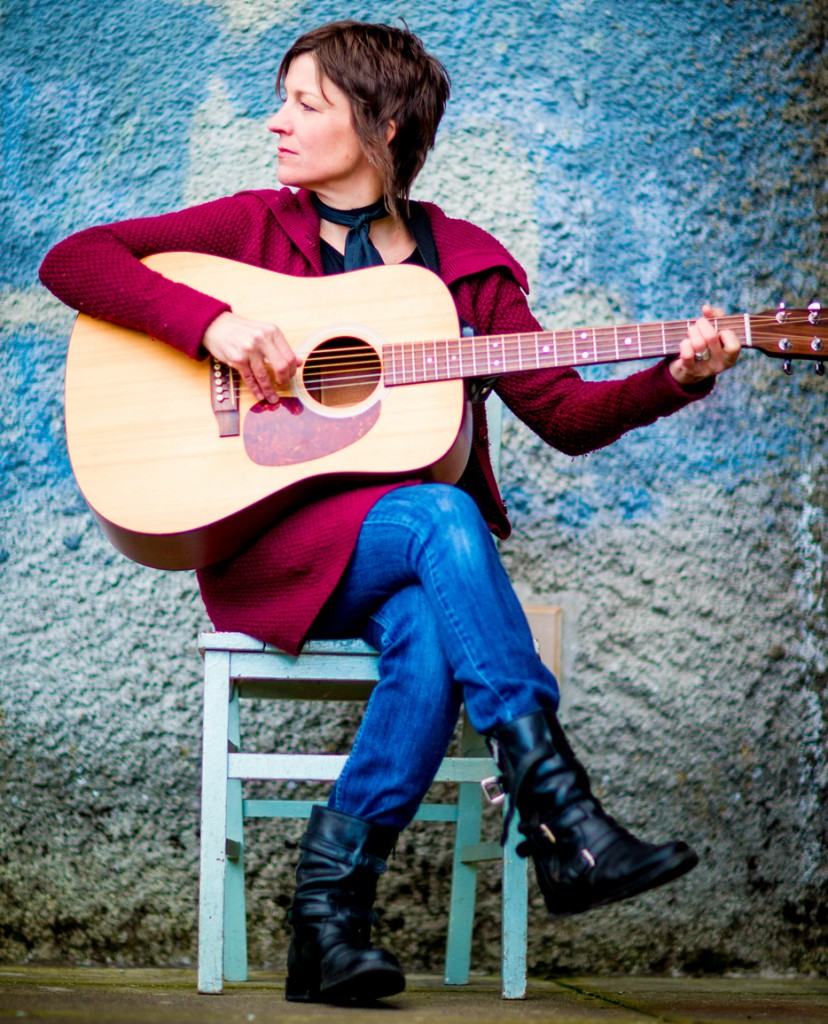 This article features Portland singer-songwriter Ashleigh Flynn, who we've been working with in radio publicity. Ashleigh's new album, A Million Stars, is a fascinating look at the mythos of the Wild West through the eyes of powerful, real-life women like Cattle Annie or Leather Britches. Ashleigh went looking for her own image in our myths of the Wild West, and what she found was that there has always been a place for powerful, outspoken women, no matter how much we try to wash this legacy away.
Select Quotes:

"I still think that roots music and most music, maybe not pop music, is a male dominated field but the people that I like are making so much good music and it's really what comes out of me. Americana is my natural voice."

"As far as [Portland's] politics, it's totally liberal and accepting and welcoming. It is an oasis in that respect."

"I've always been a very serious person and the big questions have always plagued me like, "Why are we here? What are all these stories about religion?" and right around the time when I was trying to figure out who I was, I got really freaked about going to hell. It was a manifestation of feelings of guilt and shame but really powerful emotions... I was able to realize that those are stories and scare tactics to try and control people of old… the bible, the stories in the bible. I just evolved past that by realizing that it was somewhat irrational, given the context of my life and all of the blessings that have been bestowed on me. I've got great families, I've got health, I've been able to spend time writing songs, and traveling the world playing them. I just evolved past it."

12/09/2013 | comments (0)
De Temps Antan:
Ce Monde Ici-Bas (The World Below)

The music of French Canada has an
undeniable joie-de-vivre, a kind of infectious energy born from the slapping 'tac-tic-a-tac' of les pieds (a seated form of clogging), the jumping, syncopated fiddle bowing, and the driving force of the button accordion. Or maybe it's the rowdy drinking songs, or the eerie ancient ballads of medieval France that have lasted for centuries in the New World. Whatever the case, Québécois power trio De Temps Antan have this energy in spades, as they prove on their newest album, Ce Monde Ici-Bas (The World Below). It makes sense that these three artists would have such a powerful sound; each member of De Temps Antan (guitar/singer Éric Beaudry, fiddler/singer André Brunet, accordionist/harmonica player/singer Pierre-Luc Dupuis, was formerly a leader in the massive, multi-platinum Québec folk band La Bottine Souriante and has toured the world over on some the biggest stages. With De Temps Antan, they've taken the energy they brought to arena performances and channeled this into a shockingly powerful trio.

On Ce Monde Ici-Bas, De Temps Antan draw from the traditions of Québec, but actively seek to push these traditions to a new place. These musicians are virtuosic performers, and their interpretations of the music of Québec are as much informed by their world travels as by their fieldwork and family ties. The new album incorporates recently written songs like "Refaire le monde (Remake the World)" from Québécois songwriter David Marin, or newly composed instrumental pieces like "Valse St-Sévère" (St. Sévère Waltz)" by fiddler André Brunet. The traditional song of emigration "L'América (America)" gets rebuilt with the help of Louisiana's star Cajun fiddler/singer Louis Michot (of the Lost Bayou Ramblers). Of course, this being a Québécois album, drinking songs play a large role! The album opens with "Mépriseuse de garçons," a song which has the great line "I've got a bottle on my knee, and I like it a lot better than you."


Throughout Ce Monde Ici-Bas, De Temps Antan build to powerhouse crescendos, arranging the songs and tunes to sound like a full band. It's a remarkably diverse album, drenched in the true sounds of French Canada but influenced by each member's travels and diverse influences. Recorded in Éric Beaudry's small home village of St-Côme in the heart of Québec, Ce Monde Ici-Bas echoes with the voices that came before De Temps Antan and will surely influence the voices to come after them.



Note: De Temps Antan is pronounced Duh Ta-Zawn-TAWN. The name is a pun meaning "From Time to Time" and also "From the Olden Times."
De Temps Antan: "Mépriseuse de garçons":


De Temps Antan: "Matin d'hiver":

12/04/2013 | comments (0)
The Railsplitters
From their home in the Colorado Rockies, The Railsplitters have been scaling new heights with a refreshing and charming range of Bluegrass and beyond-Bluegrass tunes. For a debut album, The Railsplitters sound remarkably assured, playing with the kind of abandon that their live shows are known for. Bringing real depth, and formidable talent, this group draws influences from all the greats-- from Bill Monroe and Earl Scruggs to modern groups like Uncle Earl and Crooked Still. The Railsplitters are nothing if not enthusiastically bluegrass and contagiously so, with rapid tempos, unusual instrumentals and goodtime-breakdowns! Using powerful female and male vocals, enchanting harmonies and masterful instrumentals, The Railsplitters have the kind of raw power that can raise mountains and maybe even a few eyebrows.


The Railsplitters' debut album starts off with a nostalgic homage to lead singer Lauren Stovall's hometown of Jackson, Mississippi,"The City With Soul". As a singer, Lauren has certainly got soul, and plenty of it! And while Lauren is giving Alison Krauss a run for her money, Peter Sharpe and Dusty Rider (yep, that's his real name folks!) are masterfully pickin' the mandolin and banjo (respectively). Laura, Peter and Dusty, along with innovative upright bassist Leslie Ziegler, all sing on the album and add to The Railsplitters' impressive songwriting.

The quartet usually start by writing their songs individually and then come together to develop them as a group. This songwriting interplay adds a special addition to an already broad diversity of styles and genres on the album. From dance numbers like "Lonesome Feeling" to modulated instrumental numbers like "Longs Peak", to sweet ballads like "Where You Are"- The Railsplitters have a song for every kind of mood.


The Railsplitters have a musical range that sets them apart from other up-and-coming Bluegrass bands. Calling on genre influnces from Roots/Americana, Country Twang, 50's doo op, modern pop and of course, good ol' fashioned Rock n Roll, they've been wowing listeners at home in Colorado and beyond. Since their beginning in early 2011, The Railsplitters have won two major contests: 2012 Pickin' in the Pines in Flagstaff, Arizona and 2013 RockyGrass in Lyons, Colorado!

At the core, The Railsplitters are a high energy, bluegrass roots quartet whose vocals soar well above all the blue in the sky. With luminous vocal clarity, unclouded songwriting talent and exceptional music range, we expect this high energy group will be growing far beyond Colorado's Front Range in no time!
The Railsplitters: "Jackson Town"
The Railsplitters: "Lonesome Feeling"
12/01/2013 | comments (0)
The Abramson Singers:
Late Risers
As we draw to the twilight of the year, it seems appropriate to be listening to Vancouver, Canada's The Abramson Singers, whose music seems to come so naturally from the grey skies over wintery British Columbia. Their new album, Late Riser, is layered with rich vocal harmonies, indie pop and folk songwriting, and the kind of shimmery dissonance that bandleader Leah Abramson learned from years of singing Appalachian music. If this music sounds different, it's because of Abramson's eclectic taste in music and her deep ties to Vancouver's innovative indie roots scene. Like her friends in Vancouver indie roots band The Be Good Tanyas (Samantha Parton guests on Late Riser!), Abramson knows the roots of American music inside and out, but brings a decidedly fresh approach to her music. Inspired by Canadian history as equally as local stories of heartbreak and longing, Abramson writes songs that subvert the folk or pop songwriting structure, blossoming beyond these boundaries into something entirely new.
With a voice that is paradoxically rich and full, but also gossamer thin, Abramson taps into the eerie backbone of a song. It's an ability she first honed with alt-old-time stringband The Crooked Jades, then as a touring harmony vocalist for well-known Canadian artists, and later developed on her own following a difficult wrist injury. Unable to play her instruments, Abramson sat down with an 8-track recorder and began layering her own voice and creating harmonic structures that echoed a full singing group. This first iteration of The Abramson Singers came from her background as a proud "choir nerd," and showed that she had an uncanny knack for arranging her songs into Victorian lace superstructures. Now with her new album, produced by Colin Stewert (Dan Mangan), Abramson's brought all her friends to bear on the music. Renowned old-time fiddler Rayna Gellert joins in, as do Canadian roots luminaries like Jesse Zubot and Josh Grange (of kd lang's band). Aside from the guests, The Abramson Singers are made up of Tyson Naylor – keyboards, Patrick Metzger – bass, Lucien Durey – harmony vocals, and Dan Gaucher – drums/percussion.
It's the songs that stand out as the key to Abramson's music. Here, the longing and heartbreak of today rub against the tragedies of Canada's historic past (songs "Red River Valley" and "Marguerite" speak of the Métis people's tragic leader Louis Riel). Abramson's soothing voice is as sharp as frozen ice, but just as fragile. This fragility makes for one of the most endearing and intimate indie roots recordings of the year.
The Abramson Singers: "Liftoff Canon"
The Abramson Singers: "Marguerite"


11/22/2013 | comments (0)
The Henry Girls:
December Moon
Anyone who credits their aunt for doing finger snaps on their recording is obviously dedicated to family. That's part of the joy and charm of The Henry Girls, a trio of sisters still living in the same town in County Donegal, Ireland in which they were raised. With voices as tight-knit as an Aran wool sweater, The Henry Girls bring an intriguing blend of vintage Americana and Irish traditional music. From naming their group after their grandfather Henry to the addition of family members on several tracks, The Henry Girls prove that there is magic in a group tied so strongly to their family and heritage.

Karen, Lorna, and Joleen McLaughlin recorded their first album ten years ago as The Henry Girls. By 2010, they were nominated for an Irish Film & Television Award for Best Original Score, having had their songs appear on the film A Shine of Rainbows; and soon after The Henry Girls appeared with the acclaimed Mary Black on her album Stories from the Steeples. Recording their fourth album, December Moon, was, however, a memorable experience. "We are Irish but our mother is Scottish and we were delighted that we got to record part of the album there," says Lorna. "It was great as we got a chance to catch up with the Scottish relations" (including Aunt Maureen, noted finger snapper).

In addition to the vast number of instruments The Henry Girls play interchangeably on the album—harp, banjo, fiddle, bodhran, viola, piano, mandolin, accordion, guitar and ukulele—they have brought on a veritable treasure trove of outside musicians. Denis Boyle (fiddle), Ted Ponsonby (dobro, guitar), Liam Bradley (drums and percussion), Nicky Scott (double bass) provide a rich, rounded sound while a slew of musicians guest on several tracks, including Gameli Tordzro on the African kora!

The Henry Girls have cast their fishing net as far as possible, and from the depths of their musical bounty they have pulled up a wide range of inspirations. They have even reinvented the Elvis Costello song "Watching the Detectives" as a film noir cabaret number! The title song "December Moon" was written after a devastating fishing accident that claimed the lives of two young local men that The Henry Girls knew personally, weaving in the image that they had of the winter moon acting as a beacon in their search. "Sing My Sister Down" highlights the group's talent as songwriters, with its effervescent charm and exceptional musicianship, while the traditional American ballad "Rain and Snow" explores the group's ability to pull music from deep roots and cover it with their unique fingerprints.
The Henry Girls are family in every sense of the word. Their inexhaustible joy of music, roots, and family shines through every track on December Moon—from Auntie Maureen's snapping to the nearly-audible grins that seem to permeate the sisters' voices—and their deft songwriting and reinventions ensure that not a single track goes unheard. The Henry Girls make you feel like part of the family, and turning on December Moon feels like turning on the heat on a cold winter day and snuggling into home.
The Henry Girls: "December Moon"
The Henry Girls: "Rain and Snow"
11/07/2013 | comments (0)
There's something deeply ancient in Emily Portman's voice. The kind of ancient that used to trip my imagination as a young boy reading stories of the English countryside. There's an undercurrent in British folk music of the pagan. It's just beneath the surface, mostly unseen, and it's in many aspects of traditional British culture. A glimpse of some old Pictish fire under the most staid British gentleman. On Hatchling, Portman's voice walks the lost hedgerows of the countryside,
peering into the bushes along the way, and scribbling down the old names and carven faces in the roadside stones. Songs like "Hollin," a traditional song culled from the vaguely titled songbook Songs of the North, Vol. 1, reflects, in Portman's own words, her childhood love of exploring English countryside.

Portman's voice is beguiling, drawing the listener deeper and deeper into the songs, but I should make mention too of her scholarship and her wide-ranging curiosity. The songs on the album come from old manuscripts as well as they do her own pen, and are inspired by topics as diverse as Greek myth, Norse gods, the English countryside, and circus folks. Perhaps my favorite part of this album are the songs that Portman writes herself that are inspired by older songs or manuscripts. She's not afraid to take an old setting of a song and rework it into something new, or even to pull ideas from old songs. And when she does cover a traditional song, she's pulling at it, and turning it into the light so as to show the hidden corners of the song. Old Mother Eve, sounding for all the world like a gentle children's song, hides a subversive message that must date back centuries: "Old Mother Eve she liked apples, and Adam, he liked them too." Coded feminist messages like this in old songs lends me great amounts of hope for humanity.

I should make special mention of Portman's incredible song, "Hide," from Portman's previous album which takes a disturbing old ballad that encourages domestic abuse and reworks it into a truly powerful song about feminine strength. This kind of deep subversion reminds me that even the most antiquated old songs can still have life to them.



The instrumentation on this album is rich, from plucked harps to clawhammer banjo, to possibly a theremin or musical saw somewhere in the background? The instruments bubble under the music, like a wooded stream, and you'll be forgiven for thinking the whole thing might have been recorded outdoors. Hatchling is an utterly enchanting album, rife with ancient folklore and half-forgotten old rituals, but still sounding utterly modern. Emily Portman should stand with Scottish artist Alasdair Roberts (who not coincidentally guests on this album) as one of the foremost traditional songwriters in the UK.

10/20/2013 | comments (0)